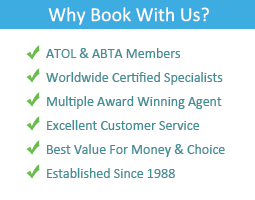 Customer Comments
Continue to recommend

we would like to thank you both for all your hard work & help with arranging our holiday. We had an amazing time and wish we were still there now....Hope to deal with Charter again in the future when saved up & I will continue to recommend you to friends.

L.Brice
Second to none

I would just like to thank you very much for all the help and assistance provided, you have been amazing and your customer care is second to none. I will be back (sorry!!) maybe this time next year or if you have any other offers which pop up please can you keep me on your email list. I have also passed on your details to some friends who are looking to book which I hope you do not mind.

L.Harrison

View other clients feedback
SOUTH AMERICA HOLIDAYS
Holidays in South America
All holidays in South America have their sights set on something different. There are those who seek the mystery of Machu Picchu 'the City in the Clouds' or the flavours of carnival time in Rio. To retrace the footsteps of Charles Darwin and visit the Galapagos Islands, home to the Giant Tortoise is irresistible. Others long to experience the plains of the high Andes and horseback ride across Patagonia and then there are those who just want to do it all! Charter Travel's experienced staff will be on hand to help fulfil the dreams of a lifetime with lands rich in history and tradition, breath-taking waterfalls and a journey down the Amazon, the second longest river in the world. Allow us to share our knowledge of South America with its variety of culture and landscape and its ability to astound even the most experienced traveller.
Flights to South America
Working with our partner airlines Virgin Atlantic, British Airways and Iberian Airlines,
Charter Travel can make planning a holiday as straightforward as possible and will arrange your transatlantic flight from London or a regional airport, book your airport hotel and even your holiday parking. We can also arrange all your internal flights and guided tours throughout most South American countries and there is the option of upgrades and services available at surprisingly modest prices. Also if you would like to take advantage of upgrading to business class this can also be arranged for you.
Tours to choose from
We work with companies who specialise in showing you the best sights at a pace that
suits you. Many of our South American tours are family friendly being suitable for most age groups but offer something different from the normal package holiday. Imagine the stories you can relay to your friends about the time you helped rescue young turtles in Costa Rica, how you rode the rapids on the Urubamba River in Peru or how you explored the Amazon Rainforest. Imagine the memories you will keep of the flight you took over Angel Falls in Venezuela or the time you spent learning to samba in Rio.
South America is also the base from where you can take a trip to the last untouched natural wilderness, the Antarctic. It is also a country of deserts, grasslands, jungle and wildlife with something to
suit all tastes. Why not give Charter Travel a call and let our experts book your cruise from Miami, and cruise through the Panama Canal taking excursions to the coastal resorts of Ecuador, Peru and Chile. We can arrange a trip inland to see the cities of the Inca and cruises on the highest lake in the world, Lake Titicaca. Alternatively, for those lovers of coffee, what could be better than to relax sipping Colombian coffee overlooking the plantation where it has been grown. Experiences like this are only a call away.
Why choose Charter Travel?
Whatever you desire our travel experts can advise you on the vast range of options available and will search and map your own personal itinerary to ensure you obtain exactly what you are looking for to make the perfect South American holiday. Give us a call now on 01635 551011 and let us take you on your next adventure.
Top 3 Holidays in South America
Ecuador and the Galapagos Grand Tour

This Ecuador and Galapagos holidays includes trips to the Pichincha volcano, Reserva Amazonica and Ica - the wine capital of Peru. You will also visit Lonesome George on the Galapagos Islands on a 3 night trip.
» view itinerary

Tour of South America

This trip gives you a taste of what South America has to offer visiting the iconic cities of Santiago, Chile, Buenos Aires, Iguazu Falls, Argentina and Rio de Janeiro.
» view itinerary

Rio de Janeiro & Brazilian Cruise

This itinerary is a fantastic way to explore the sights and sounds of Brazil. Start off by soaking up the sun on one of the gorgeous beaches of Rio de Janeiro then climb aboard the Vision of the Sea for a Brazilian cruise of a lifetime.
» view itinerary