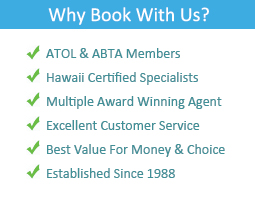 Customer Comments
Fabulous holiday

We had a GREAT time, the flights were all on time, The condo was awesome, the view on the lanai onto the golf course was beautiful especially in the morning.Drove down to the Volcano Park which was an awesome place to visit, 2 hour drive, take a coat or waterproof.... All in all it was a fabulous holiday thank you, would like to see some of the other islands sometime in the future!.

M Stevens
Honeymoon was a dream

The honeymoon was a dream come true, we LOVED Hawaii, all 3 islands were amazing. We were doing different activities daily, from helicopter rides, to water tubing, zip lining, boat trips, snorkelling, sight seeing, we literally did it all.

P.Busby

View other clients feedback
LANAI HOLIDAYS

Holidays on Lanai, Hawaii
The Hawaiian Island of Lanai also known as The Pineapple Island acquired its name from once being the world's largest exporter of pineapples and has only been inhabited since 16th century.

The Hawaiian Island of Lanai has peace and tranquillity which is far removed from many other busy islands and is a wonderful place to escape and recuperate from the pressures of everyday life.

The Hawaiian Island of Lanai has something to offer everyone -seclusion for honeymooners and activities for quality time as a family. If this appeals to you then our team of experts at Charter Travel will ensure that your whole travel experience from departure to destination will be just as stress free and this is due to our ability and enthusiasm to arrange everything for you including your flight, choice of hotel, excursions and car hire as well as giving advice on places to visit and where to shop and eat.

Our professional staff have a unique personal approach and will take on board your express requirements or alternatively offer suggestions and ideas that will inspire you.

We can help you choose a hotel or resort to meet your expectations. There is a rustic, relaxed atmosphere at many of the hotels including Four Seasons Resort Lodge at Koele in a tranquil setting of pine trees but additionally with many activities available such as golf, riding, clay shooting, croquet and bowling.

There is also The Hotel Lanai situated at the top of Lanai City and offering superb dining and the Four Seasons Resort Lanai at Manele Bay a marine preserve will appeal to those keen on discovering marine life. The intimate feel of the small town is idyllic and in Dole Park in Lanai City you can enjoy strolling around the shops and sampling the food at the local restaurants.

For those who wish to spend time exploring the island there is plenty to see such as Keahiakawelo, Garden of the Gods.

The landscape is barren and strewed with rocks giving the impression of a lunar landscape. From here on the high point there is an amazing view of Molokai.

Charter Travel can arrange vehicle hire including a four wheel drive vehicle, a must for visitors exploring the island as there are over 400 miles of dirt road, many leading to breathtaking views over the island. You can drive to Kaiolohia the Shipwreck Beach, an expanse of 8 miles where the wreck of a tanker ship can still be seen.

For those who just want to relax and enjoy the sunshine, Hulopoe Bay is ideal and in the past has been voted America's best beach. It has an amazing expanse of sandy beach and clear sparkling water ideal for snorkelling and swimming and this is also where visitors can watch dolphins and humpback whales.

Children will want to spend hours exploring the rock pools for crabs and small fish and if you want to stay all day there are picnic tables and barbecue grills at the Beach Park. End your day with a 20 minutes hike to Puu Pehu a famous landmark known as Sweetheart Rock and watch the stunning sunset.

If this sounds like the idyllic holiday for you, our experts at Charter Travel are looking forward to your call on 01635 551011.
The itineraries shown are just some of the suggestions for your planned trip. If there is too much choice, you are not sure where to go or what will fit your budget, submit an enquiry and tell us what you are looking for, where you would like to go and your ideal budget and one of our experienced travel specialists can help you in perfecting your dream tailormade holiday.